LOCATION: West Seattle, Genesee Neighborhood
YEAR OF BUILD: 1949
STATS: 3 BR, 1.75 BATH, 1,780 SQ FT
When I visited Jennae and Patrick for their home tour, I was greeted by two large Bernese Mountain Dogs and an extremely camera friendly cat. For most people, that would be a lot to manage in a smaller house but Jennae and Patrick have combined simplicity with functionality to make their 1949 cozy home seem quite spacious. Jennae and Patrick are both creatives and their eye for design is so strong throughout their home.
You're immediately welcomed into their light filled living room upon entering their home. Corner windows line the entry room to create a space that is bright and airy.
One thing you'll notice immediately about the house is the small collected details from their lives. Everything has a story and represents a piece of their life together. A small built in fits a vintage projector they found at an antique shop in Portland and is surrounded by curated bits and pieces of life's memorabilia.
If you ask them what their favorite spots in the house are, Patrick's pick is this Eames molded plywood chair. It adds a welcoming element to the simplicity of their living room right next to their DIY Ikea hack floating credenza.
Unique pieces of art are one thing this house isn't lacking. Their living room boasts a carefully curated gallery wall with bright colored frames to add some fun into the space. Patrick loves motorcycles and they've incorporated multiple moto-inspired pieces into this gallery, as well as a few wedding photos. Jennae is also the maker behind Hux Goods, a Seattle based shop that sells handmade accessories and interior details. Her pillows and table runner are prime examples of some of the magic she creates.
Their tiny kitchen is compact and functional. Jennae has filled their kitchen window with small plants to bring some fresh accents into the space filled with cook books and curated coffee mugs.
Jennae's studio is such a slice of creative paradise. It's filled with natural light and has corners lined with tropical fabrics and small details that inspire her. As a creative maker, it's so important to have a space that allows you to feel creative and inspired and Jennae has definitely found this in her studio.
Patrick and Jennae's bedroom is simple with a great mixture of texture and pattern. In order to maintain a clutter free smaller bedroom they stick to only the necessities in there. The've added a pop of color with some teal curtains and a colorful Mexican serape blanket, some fun patterns like their cat pillow cover, and a beautifully upholstered bed frame.
Their house is split into two levels with the lower level containing an additional living room with a pull out sofa for out of town guests. Though it's below the ground level, it's still filled with light and welcoming textures.
Nestled just minutes from downtown Seattle this home is bursting through its seams with personal touches and details. They've described their style as "creating a space with things that brings us joy" and it's so clear they've done a great job with that.
Check out the rest of the photos from their home tour below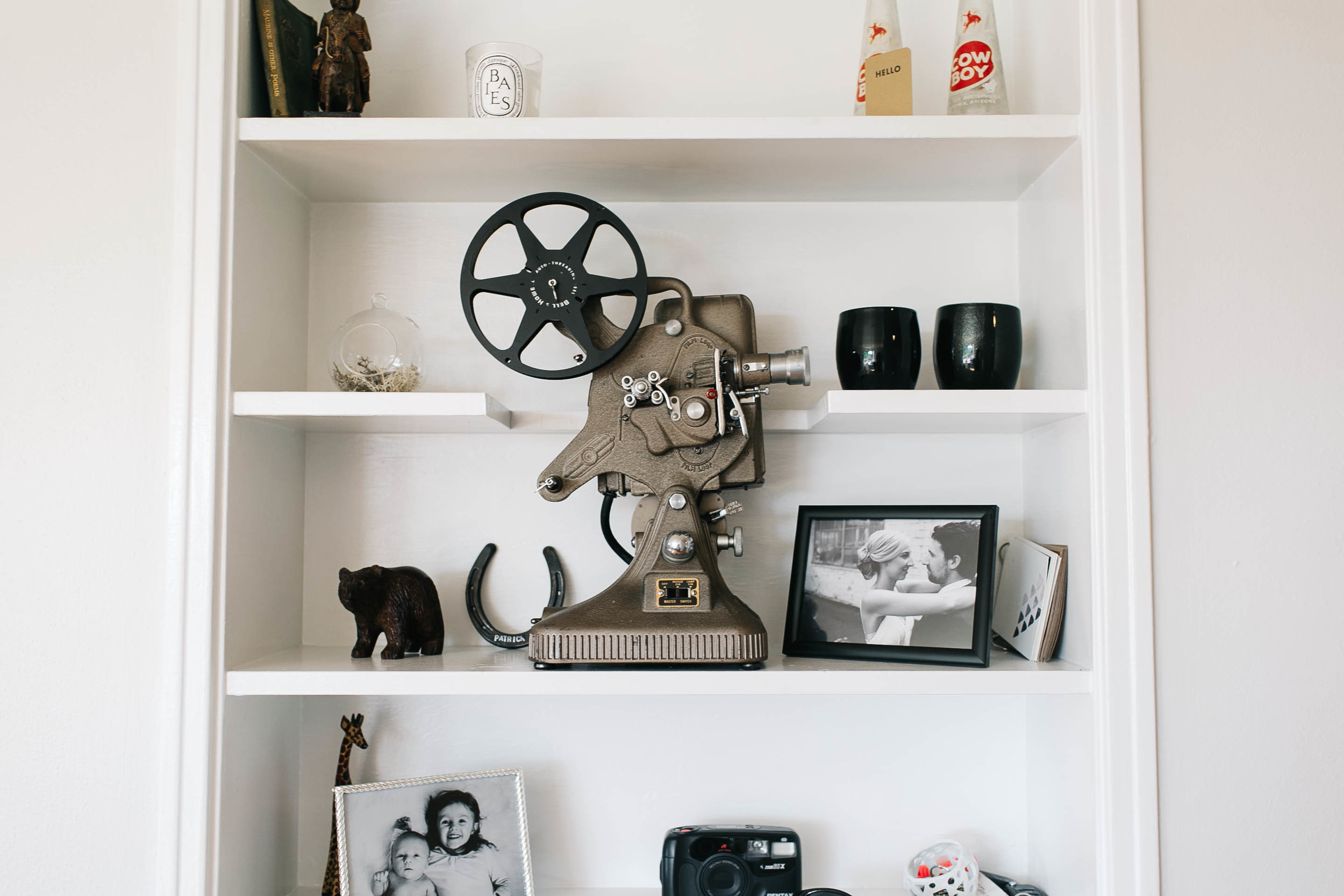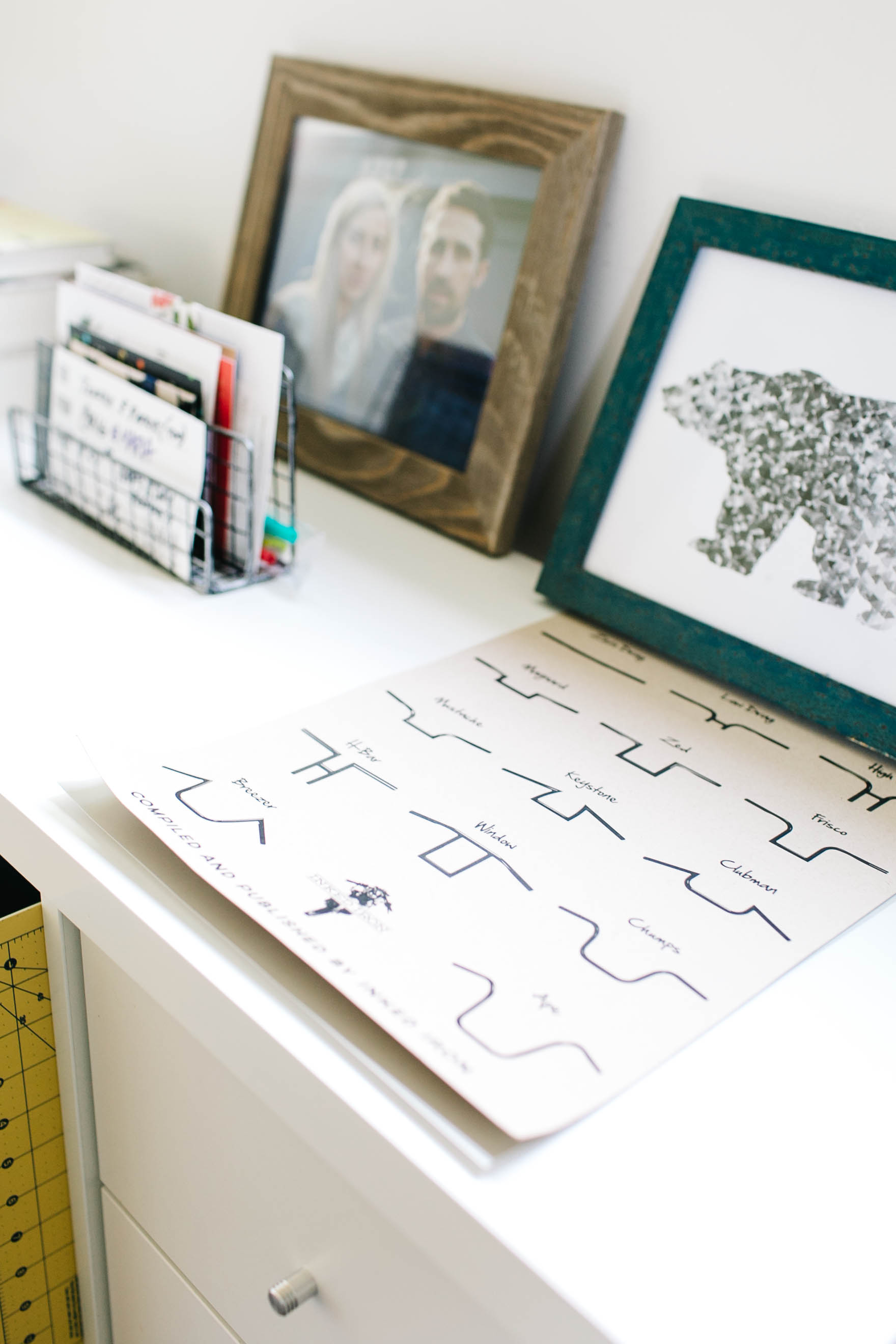 RESOURCES
ENTRY WAY + LIVING ROOM
Sofa: Macy's
Coffee Table: Family heirloom from Patrick's great aunt
Floating Credenza: Ikea Hack (Ikea + Patrick added wood top)
Leather Bench: CB2
Projector: Vintage find in Portland
Gallery Wall: "Never Grow Up" from Ornamental Confirer | "BRAAAP" + "Live to Ride" Screen Print from Inked Iron | Black and Gold Shapes from Spaceagency | Wedding Photos by Marissa Maharaj | Photos of us on a Motorcycle by We Are The Rhodes
Pillows: Hux Goods
DINING ROOM
Table: CB2
Chairs: CB2
Light: Ikea
Artwork: Deus Custom
STUDIO
Desk: Ikea
Artwork: John Lennon litographs | Calendar from Eleven and West | Mondays Aint So Bad from Ornamental Fonfirer
Chair: Space Oddity Vintage Doctor Chair and the Jens Rinsom Chair
BEDROOM
Nightstand: CB2
Cat Pillow: Ikea
Bed: Crate and Barrel
Duvet Cover: Unison
Second Living Room
Sofa: CB2 Movie Sofa
Sofa Pillows: Hux Goods
Leather Chair: West Elm
Guitar: Taylor Big Baby
Modern Black Chair: Laura Davidson
Pinball Machine: 1980 Williams Galaxy